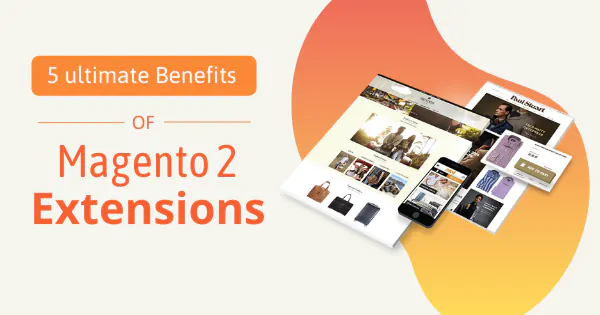 There are more than 2 Billion online shoppers globally.
Yes..!! You heard that right. And the numbers are continuously increasing. We can see a sudden boom in the eCommerce industry.
More and more offline businesses are converting into online stores and enhancing their reach to wider audiences.
But you must have noticed that on one hand, everyone is moving towards online business, whereas on the other hand competition among these online stores is continuously rising. Every business is trying to bring in new customers and retain the existing ones.
To capture more customers for Magento-based eCommerce stores, businesses are investing in Magento extensions. These extensions will enhance the online store's appearance, add the latest features and functionalities, and make your eCommerce store attractive. All these functionalities ultimately improve the conversion rates.
There are a lot more benefits of using Magento 2 extensions, let's unwrap them.
Benefits of Magento 2 Extensions for Your eCommerce store
1. Helps you Manage Delivery Date and Time
Once you establish your Magento store, your next step is to ensure the smooth delivery of the products to customers. Sometimes you will get a large number of orders. With increasing orders, your responsibility to deliver products on time is also increased. And if you adopt a manual approach of delivering goods and invoices you might end up with some errors that directly affect your brand image.
In this case, you should opt for Magento 2 Delivery Date and Time extension. It will not only help your customers in selecting delivery time & date according to their preference but also enables the admin to keep a track of delivery date and time and manage accordingly.
2. Wider Audience Reach
If you want to expand your business on a global platform, language might be the common barrier in connecting the customers with your brand. Suppose a customer visits your well-established and attractive eCommerce store in searching for a particular product. At last, he ends up leaving your store without making any purchases just because of not getting the language, how would you react then?
Therefore you must consider a Magento extension that lets your visitor understand your online store content. Here the Advanced GeoIP Redirect comes to your rescue. It enables your visitors to interact with your online store products in the language they want and increases your conversions.
3. Hassle-Free Order Management
Every eCommerce store handles thousands of orders a day. Managing orders and inventory most effectively and efficiently is one of the most challenging tasks of any eCommerce store. Here you need a tool that can help your store to process your orders in a faster and easier way.
Here the power order management extension Split Order On Checkout Pro comes into the picture. This extension lets store managers manage their orders in a quite fluent manner. It allows more control over the ordering process and reduces the time and unnecessary workload on store managers.
4. Social Media Integration
Every eCommerce business owner knows the importance of offering their products on multiple platforms. And when it comes to Social Media, Facebook is one of the leading social media platforms where your potential customers hang out the most. If you fail to capture them, you might end up losing a great deal of business.
SunCart has developed Facebook Feed Magento 2 extension for eCommerce store owners. It allows store owners to embed and promote the Facebook page right on the main shopping sites. This brings an easy way for visitors to interact with the Facebook page right from the websites they are visiting. More interaction leads to more engagement, and more engagement lead to more conversions.
5. Engagement Booster
Whenever a customer does online shopping, he collects information about the product before shopping. And an informative blog about the product is the best way to collect complete information about the product or service.
The more informative a blog there is, the more people will read it, and the more people who read it, the more traffic will come to your website. And this will increase your ranking in search engines.
For this, the Magento 2 blog extension will be your engagement booster. This blog extension helps Admin to write the blog-add, edit/modify publish on their website and boost the engagement on your website.
And the Research Says..!!
Magento is the best eCommerce platform with lots of unmatched benefits. To enhance the functionality of your eCommerce store you must invest in the best Magento Extensions. They are not only improving the efficiency of your eCommerce store but also helps in increasing conversion rate.
Choose the best one as per your business needs. And if you need assistance on Magento Extensions, you can contact or visit us at the SunCart store.